Dump Truck Tarp Systems - Side Mount
---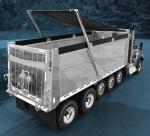 Aero's new AeroForce line of dump trailer tarp system uses an internal compression spring technology to maximize...
[more]
Dump truck tarp systems easily pay for themselves through what you save in time and money. It can take 20 minutes to cover a load by hand, precariously standing on fenders and brackets in the heat or cold; a tarping system gets the job done in thirty seconds. You'll also appreciate an automated system if you ever encounter sites that don't want you getting out of your truck. With one of these systems, you can sit in your cab and open or close your tarp with a quick turn of a switch.

Flip tarp systems are an excellent choice if you're hauling rock, sand, asphalt, or other construction materials. Our aluminum front-to-back, direct drive tarp systems are 40% lighter than similar steel systems. They look clean and professional and will not rust. External mount systems mount on pivot pins on the side of your truck. Our tarping systems come with all parts and hardware, including steel torsion springs, a direct drive motor, and a centering flange to keep your tarp in place and prevent arms from banging into the dump body or tarp housing.

PLEASE NOTE: TARP NOT INCLUDED IN THESE TRUCK TARP KITS. ORDER TARP SEPARATELY.

Sort:
1-8 of 8 results
1
Go Back
Please feel free to contact us with any
questions. Thank you!