Hay Tarps | Haystack Covers
---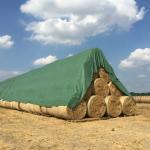 Protexia's breathable, water resistant hay tarps are lightweight and UV resistant for the most effective bale st...
[more info]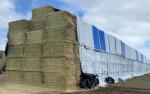 These heavy duty 7oz polyethylene hay tarps are breathable, reusable, and easy to secure.
[more info]
Hay tarps are a cost-effective way to cover your hay without having to build a solid structure. Leaving hay uncovered will reduce its nutritional density due to bleaching, leaching, pests, mold, and mildew, even in low moisture environments. Using tarps along with gravel runs or pallets to reduce contact with the ground will protect your hay while it is stored.
Go Back
Please feel free to contact us with any
questions. Thank you!
---