Hand & Throw Tarps
---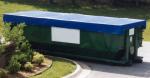 These industrial vinyl hand tarps, sometimes called throw tarps, are made from 18 oz. waterproof vinyl and will ...
[more info]
Dumpster Tarps, Container Tarps, Hand and Throw Tarps. Grommets all around make these easy to use on open top co...
[more info]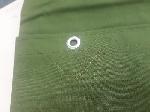 These 12 oz. cotton canvas tarps are breathable, but have a special coating to provide good water resistance. Un...
[more info]